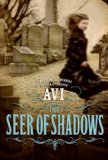 Combine post-Civil War New York, nineteenth century photography methods and the ghost of a young girl bent on revenge and you have all the elements for Avi's ghost story, The Seer of Shadows.
Young Horace is a photographer's apprentice whose first real photograph, though accidental, reveals the image of a dead girl, the daughter of wealthy matron Mrs. Von Macht. However inadvertently, Horace brings the girl's ghost to life where she is intent on punishing those responsible for her death. Horace realizes he is "the seer of shadows," the only one capable of seeing the ghost and therefore the only one able to stop her revenge.
The glimpses into early photography techniques incorporated into this novel are fascinating as well as the occasional references to life after the Civil War (Horace's father, for example, is described as an "early and fervent support of Abolition and radical Republicans…devoted to the likes of Abraham Lincoln and New York's Horace Greeley").
As a young girl, I loved a compelling ghost story. The Seer of Shadows is one such ghostly tale, full of shadow and suspense, tragedy and retribution. Written for ages 9-12, though 9 may be a little young particularly if one is easily frightened, The Seer of Shadows is a thrilling read for those who love a good ghost story.
Wife and mother, Bible teacher and blogger, Lisa loves Jesus, coffee, dark chocolate and, of course, books. Read more of her reflections at Lisa writes…