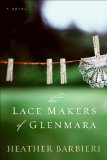 Novels often take us into stories of transformation, with characters poised on a precipice of a major life change in the opening pages. As the reader, it's our role to go along on the journey to discover the new life waiting for them. The Lace Makers of Glenmara, Heather Barbieri's second novel, publishing this month, follows this path and takes us to the western coast of Ireland, introducing a cast of characters who assist in creating the fresh new start at the core of the story.
If you believe that old superstition of bad things coming in threes, then Kate Robinson's current state follows suit. Finding herself newly heartbroken, mourning the loss of her mother to cancer, and wondering where her not-so-successful career as a fashion designer is headed, she decides to drop out of her regular life for a bit and take the trip she and her mother always dreamed of– Ireland. While she has some connections to her Irish heritage, she truly is just looking to escape for a while. Before she knows it, she winds up in a little village, Glenmara, where all the pieces begin to fall into place. The people she meets in Glenmara provide the love and support she needs at this time in her life, and she is welcomed into a group of lace makers who begin to share their traditions with her, while she also finds that she can bring something new and needed to the group as well. I very much enjoyed the comfortable relationship that she and Bernie, a lace maker who opens her home to Kate, form– they each comfort an ache in the other, portraying kindness and generosity in a beautiful way.
Of course, this wouldn't be a true story of transformation if there wasn't a love interest angle as well! Combine all of these elements with a fair share of tragedy, and a few tear-inducing scenes, and you have a lovely, quiet tale with interesting characters and a beautiful setting that pops off the page. The Lace Makers of Glenmara is delicately woven and consumed quickly.
Thanks to the folks at Mother Talk for providing this book for review.
Dawn is lucky if she can sew a button back on a shirt and have it actually fit properly through the hole. While crafty tasks may not be her thing, she does blog up a storm at my thoughts exactly.