We all do it- there's none among us who hasn't responded in a conversation with a well-known saying that's meant to convey a common meaning (and a potentially overused or trite one at that). I know I'm guilty. In talking about doing all the "right" things in the lead up to naptime, yet still struggling to get my daughter to sleep, I've been known to drop a "you can lead a horse to water, but you can't make him drink" sentiment. And with my oldest child, the advice to "never put off tomorrow what you can do today" is just about on a repeat loop in our conversations. While I may freely use these and many other sayings, I can't admit to knowing one little bit about their origins.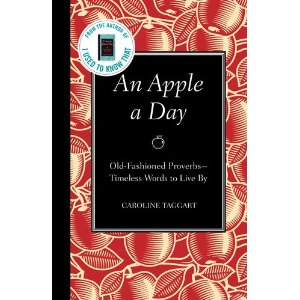 Enter Caroline Taggart's latest information collection, An Apple A Day: Old-Fashioned Proverbs– Timeless Words to Live By. Context and background are given for about two hundred different proverbs, but the focus is less on strictly where the sayings originated and more on their relevancy in today's world.
As in the "Blackboard Book" I Used to Know That (linked to my review), Taggart's wit and humorous sensibilities come through in her writing about the proverbs. At times she points out the blatant oppositions of some sayings (think "Look before you leap" vs. "Nothing ventured, nothing gained" or "Out of sight, out of mind" vs. "Absence makes the heart grow fonder"), and she also brings attention to the literary references for many proverbs throughout the years.
My personal favorite tidbit from this collection revolves around the phrase "Slow but steady wins the race." I'm fairly confident that most folks can identify this as a moral from an Aesop fable, but did you also know that around the same time that Aesop was penning that tale of the tortoise and the hare, another historical figure well-known for producing sayings is credited with his own version? Who do you think said, "It does not matter how slowly you go, so long as you do not stop"?
For some fun with well-known proverbs, check out Caroline Taggart's An Apple A Day: Old-Fashioned Proverbs– Timeless Words to Live By. Remember, knowledge is power.
Dawn's personal motto should be "laughter is the best medicine," but more often ends up being "it's no use crying over spilled milk." She blogs away at her own cliche, my thoughts exactly.