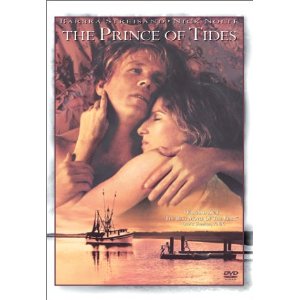 If you haven't already read the book, but plan to, you might want to skip this post, there aren't necessarily any spoilers (aside from the fact that the movie cover sort of screams "SPOILER" — what's up with that??).
Actually, that's one of the things I don't like about movies. I like to go in as dumb as possible. I hate that so often plot twists or events are revealed in previews, or often the funniest moments in comedies have already become as background noise, because you've seen them so many times on the boob tube. But I digress (Check out my blog today if you want to hear more of my digressions read about some other problems I had with this cast, based on my viewing of this movie 20 years ago).
Some of the narration is directly from the book, which of course I love. It's also a beautiful movie. The people look beautiful as they deal with their tortured memories or present circumstances. The setting is beautiful — both New York City and the South Carolina low country.
But I'm sure that this won't come as a surprise to anyone — the book is just better. The book is long (over 650 pages in print), and so the story takes its time to build up and slowly unfold, which builds suspense and curiosity. There are changes that I understand (entire scenes or plots cut out because they'd take too much time to explain), but there are others that seemed critical to the story. In fact, unless I missed it, what happened to Luke was completely left out of the movie, which was what the whole novel built up to (after 650 pages, that's a lot of building which probably indicates its significance, right??).
The theme of restoration couldn't really be developed either. We glimpsed it, but more as a sort of fairy tale ending that the book was able to avoid while still addressing it.
The movie's good, and could probably be appreciated by someone who knows that they won't read the book, or perhaps if you read the book a while ago, but never saw the movie, but honestly just read the book — or at the very least read my book review.
Jennifer Donovan does appreciate a good story in any form, whether on the big screen, the small screen, in the pages or in her earbuds. She blogs at Snapshot.