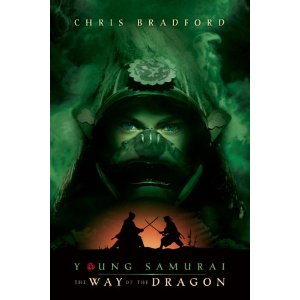 Back in May, we featured a guest column from author Chris Bradford and a giveaway of his first two books in the Young Samarai series. In honor of the third book being published in hardcover by the Disney Book group, we are reprinting the post, and also hosting a giveaway of Young Samurai: The Way of the Dragon and the first two books as well.
Here's what the publisher has to say about The Way of the Dragon:
June 1613.
Japan is threatened with war and Jack Fletcher is facing his greatest battle yet. Samurai are taking sides and, as the blood begins to flow, Jack's warrior training is put to the ultimate test. His survival – and that of his friends – depends upon him mastering the Two Heavens, the secret sword technique of the legendary samurai Masamoto Takeshi. But first Jack must recover his father's prize possession from the deadly ninja Dragon Eye. Can Jack defeat his ruthless enemy? Or will the ninja complete his mission to kill the young samurai…
Visit youngsamurai.com to find out more about Chris and his Young Samurai series. You can also "like" Chris on Facebook at: and follow him on Twitter @YoungSamarai.
Read some of Chris Bradford's thoughts on how to Hook a Boy with a Book:
Supposedly, boys don't read books.
After a certain age, the distractions of iPods, Gameboys and the internet shove the book aside, like older brothers in a rush for attention.
I don't believe any of this.
A book can be longer lasting than an iPod, more action-packed than a Gameboy and more informative and interesting that the internet. Hook a boy with the right book and all the gadgets in the world won't tear him away from his reading.
The difficult part is finding the right book.
Please click through to read the entirety of Chris' column, first posted here in May, which offered specific suggestions about how to hook a boy with a book.

But first, leave a comment here if you'd like to win. Two of you will win the first three books in the Young Samarai series.
We'll announce the winners on March 2.
Check out our current giveaways. Subscribe to our feed. Follow us @5M4B on Twitter.