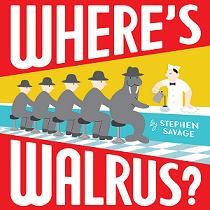 A winking walrus greets you at the beginning of Stephen Savage's new wordless picture book Where's Walrus?, and even though he's only made of a few black lines on his curvy solid gray body, his likability comes through immediately.
When Walrus notices all his zoo-mates as well as the zookeeper himself napping, the wide open gates beckon him, and his adventure out in the world begins. With the zookeeper hot on his trail, Walrus tries his best to blend in with various groups around him, be they firefighters, store window mannequins, or brick-laying construction workers. Donning the appropriate head wear, Walrus succeeds in keeping the zookeeper fooled, until his appearance on the diving board at a swim meet gets the attention of all the judges and the excited crowd. But because of that adventure, Walrus finds his life at the zoo soon changed in a fabulous way!
Savage's illustrations, digitally drawn and created, are simple with solid blocks of color, but in this case, simple does not equal unattractive. The illustrations in a wordless book have to carry the story, and these do the job perfectly. Where's Walrus? makes for a fun picture book experience for young children, giving them an opportunity to create the words that Walrus may be thinking or the narration of his wild adventure in the city.
I love the concept of book trailers, as they give you a little peek inside the book or a feeling about the author/illustrator's mindset. Check it out:
Do you and your children want to follow Walrus when he sneaks out of the zoo? We've got three copies of Stephen Savage's Where's Walrus? to giveaway!
Leave a comment here to be entered, U.S. residents only, please.
This giveaway is now closed.
Check out our current giveaways. Subscribe to our feed. Follow us @5M4B on Twitter.
Dawn and her children are picture book addicts, happily indulging in their habit each and every day. Their own stories are told at her blog, my thoughts exactly.