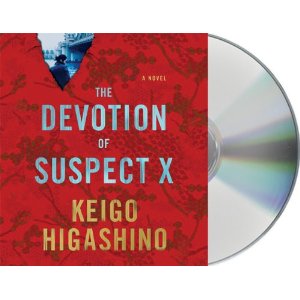 Reading books written by someone from a different country or set in a different country adds a whole new layer to the plot. I don't think that I have ever read a book set in Japan or by a Japanese author, so that was one thing that attracted me to The Devotion of Suspect X. Keigo Higashino is one of Japan's bestselling crime novelists.
I occasionally read detective fiction, and I enjoy fast-paced suspense, but The Devotion of Suspect X is something completely different. It felt more cerebral and internal than the typical whodunit.
Yasuko Hanaoka is a single mom, divorced from an abusive husband. When he shows up at her workplace one day, she fears what he may do to her or to her teenaged daughter from a previous relationship. When he shows up at her home, she sees fear on her daughter Misato's face, she decides to protect her at all costs, and Togashi ends up dead.
Yasuko's neighbor Ishigami has quietly admired her from afar. When he hears the scuffle through the thin apartment walls, he immediately offers his assistance. As he gets involved in keeping her safe, Ishigami battles wits with the detectives on the case.
This story is not really a "whodunit" but wrestles with the question of why and of unhealthy fears and obsessions. It's a clean novel (which isn't always the case with this genre), and though it seems straightforward, as the plot advanced it became more and more complicated.
AUDIO NOTES: The narrator David Pittu's voice did a great job of distinguishing the characters, and his understated tone was a perfect accompaniment to this story. You can listen to an audio excerpt or read an excerpt from the text at the Macmillan audio page.

We have an interesting giveaway today. We are offering two of Macmillan Audio's new releases — this one and First Grave on the Right. You can enter one or both by leaving a comment on whichever review you'd like to enter. We will combine all the entries and one winner selected from both pools will receive whichever audiobook she commented on. We'll announce the winner on March 2. THIS GIVEAWAY IS CLOSED.
Congratulations to Mona Garg, commenter #4. She is the winner of The Girl in the Gatehouse.
Check out our current giveaways. Subscribe to our feed. Follow us @5M4B on Twitter.

"Listen while you work" is Jennifer Donovan's motto. She loves using audiobooks to make the drudgery of household chores more interesting. She blogs about everything BUT housework at Snapshot.