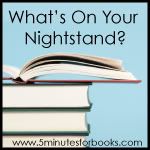 Was one of your New Year's resolutions to read more? Or maybe to be more intentional about what you're reading? Maybe not. Maybe, like me, reading is so much a part of your life that you don't have to think about setting goals.
Regardless, we'd love for you to join us on the fourth Tuesday of each month discussing what is on your nightstand (or bookshelf or coffee table or under your bed or even in your bathroom). You can give us a quick recap of what you read in the last month, or set a sort of goal about what you plan to read in the next month, or take a picture of all the books that you are waiting to read. You can tell us how or why a certain book came to be on your nightstand, tell us what you think of a book you are reading, or ask for suggestions about what you should read next.
The point of this monthly carnival is to bring booklovers together. It's our hope that you will participate when you can, and also that you will visit around some of the others on the list.
In order to give East coast and West coast an equal shake at being at the top of the list, we'll post it at midnight on odd numbered months and at 8:00 a.m. on even numbered months.
We used to host a community event each Tuesday, but we've said goodbye to all of them except for What's on Your Nightstand. However, in order to keep providing a place to talk about children's literature, we will be hosting the Cybils Challenge. We are going to encourage you (and your kids) to explore the Cybils nominees and winners — from this year or year's past (The 2011 Cybils winners will be announced on February 14). Next Tuesday we'll post an informational post and invite you to set some goals and join us in reading children's literature that has been nominated and shortlisted and awarded by Children's and Young Adult bloggers (including Dawn and me).
Check out our current giveaways. Subscribe to our feed. Follow us @5M4B on Twitter.