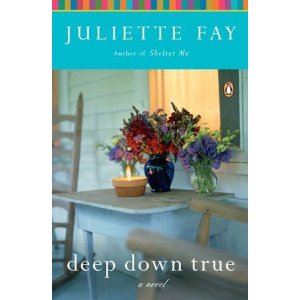 I liked the novel Deep Down True before I even read it. That's right — I was liking it before I even read one page of the novel.
Author Juliette Fay prefaced the book with her acknowledgments which began by thanking those in her junior high school who were the rare combination of nice and popular and naming the friends who never betrayed her. She goes on to say that "Adolescents are an interesting bunch, prone to acts of both great generosity and great ferocity, and you never know which is coming at you till it's in your face."
. . . . continued at 5 Minutes for Mom.

We have one copy to give away (U.S. addresses only). Just read my full review at 5 Minutes for Mom and leave a comment over there if you'd like to win. We'll announce the winner there in the weekly 5 Minutes for Books column on February 7.
Check out our current giveaways. Subscribe to our feed. Follow us @5M4B on Twitter.
Jennifer Donovan is so appreciative of those in her life who know what it is to be "deep down true," which include friends, her kids, her husband and so many more. She blogs about other things she appreciates at Snapshot.