I have books in places that other normal people have books:
A large bookshelf, which was prominently displayed in my den in my old house, but is now upstairs in our playroom/"quiet reading room" (which do you think will win out there?).
A new bookshelf in our new study
In a bin in the family room (mostly children's books)
On bookshelves in each of the bedrooms: mine, Kyle's, Amanda's, and the guest room
In a basket beside my bed and on my husband's nightstand
Cookbooks on their own shelf in the kitchen
Maybe everyone doesn't have that many stashes of books. But it doesn't end there. I have books on closet shelves as well. In fact, I rigged up a special system in my old house in the entry hall closet for my review books. I've done the same in a nifty built-in shelving system in my cavernous closet here in my new house.
When we moved, we had many many boxes labeled books. I should have counted them, but I didn't. I'm not exaggerating when I say that there were more than 20.
So that said, there's one common place that people keep and display reading materials that I never have: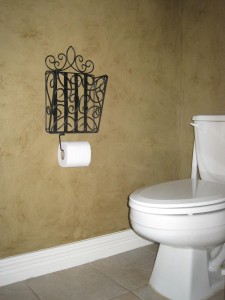 The former owner has this oh-so-cute toilet paper holder/magazine rack combo, but it's just not something I'd ever use. I know that some moms read a few pages of a book in the bathroom, because they know that they won't be disturbed. I understand that, but my motto is "Get in and get out."
And you? What's the strangest place you have a supply of reading material?

Jennifer Donovan doesn't have to sneak away to read, because she indulges her reading habit quite easily. She (sort of) blogs at Snapshot.