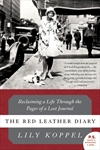 The Red Leather Diary: Reclaiming a Life Through the Pages of a Lost Journal has been "On My Nightstand" for months. I was intrigued by the story that Lily Koppel wrote after finding the journal that Florence Wolfson Howitt kept from 1929 to 1934 after receiving it as a gift for her fourteenth birthday.
I loved the way that Lily Koppel told this story — weaving details and entries from the diary to photos that she later recovered to stories (later told to her from the diarist herself). Lily also tells a bit of her own story, a young writer in New York City. At the time she found the diary, she was covering "bold-faced" name celebrities for the New York Times. Though experiencing success, she wondered if that's what she should be doing yet (writing) "fiction seemed strange when my reality felt so unreal" (page 6). She continued to search for a story that resonated with her, and one day when the basement of her New York City apartment building was cleaned out, she found this diary among other unclaimed treasures.
This book is actually three stories in one: young Florence's, Lily's, and the diary's (what brought the two of them together).
And I think that's what I enjoyed most about this book — being transported back to that exciting era of the 1930's, as Lily Koppel expertly reconstructed Florence's story, adding pictures and details to the few lines that she wrote in that diary each day for five years. I loved the sense of mystery about who this young girl was now and how the author found her.
Just like any modern teen, Florence's journal reveals her concerns for her future, disputes with her mother, and her romantic life. The surprising thing — especially given the time — is that she received romantic attention from both sexes. Some details, such as that one, show that everything old is new again, but other details about the life of an intelligent woman trying to seek independence while living the artistic life is fairly unique to the era. People today do not have the luxury (or motivation?) to pursue the artistic life — devoting oneself to writing and drawing and the intellectual life as Florence did.
I flew through this book. You'll either love it or you won't. You can read the first few chapters on HarperCollins website. Check it out and see if Florence's story doesn't draw you in like it did me.
Managing Editor Jennifer Donovan also blogs at Snapshot about life with her tween daughter and preschool son.