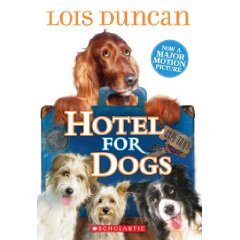 One thing I love about living in my small town here in New England (just one of the many) is that they have an old-fashioned theater in our Town Hall building, erected in 1930 and now listed in the National Register of Historic Places. They show second-run movies there for $2. Last week during Spring Break I took Amanda (age 10), Kyle (4 1/2), and a friend's two girls, ages 10 and 7 to see Hotel for Dogs. I give you all the ages to say that it was a hit with all five of us. It was cute, funny, original and well-acted, with no profanity and only the tiniest bit of romance (Why do most kid movies, from Disney princesses on up, insist on centering around a love story?).
As the movie was starting, the lines "Based on the novel by Lois Duncan" caught my eye. Lois Duncan! She wrote Summer of Fear which I read in junior high and still sticks with me. I remember that story about that evil cousin who came to visit and wreck everything (the pink bathing suit scene is especially vivid in my mind). Lois Duncan mostly wrote books such as that for the Young Adult market, but apparently she wrote the children's novel Hotel For Dogs in 1971. It's been updated and re-released by Scholastic (and there's a brand new sequel called News For Dogs, which just released this month–review to come).
Per usual, the novel is a bit different from the film. Andi and her brother are younger, and not orphans, but the idea is the same: because their dog can't live with them, they end up finding a new place for her which turns into a bit of a project which benefits other dogs as well.
Whether you've seen the movie or not, Hotel For Dogs is a book that you and your children will enjoy.
The Hotel for Dogs movie releases on DVD on April 28 and comes with my high recommendation.
Managing Editor Jennifer Donovan unashamedly admits to enjoying children's movies and books. She also blogs at Snapshot about life with her tween daughter and preschool son.