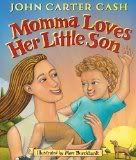 A little over seven years ago, I became a mom. As those of you who are mothers know, there is no way to prepare yourself emotionally for motherhood. Although I knew I would love my child, I was blown away by how much my heart expanded on the day my son was born. And I don't know how it's possible, but I love him even more now. I am sure all of you moms understand these feelings. I think there is a special bond between a mother and her son (and also a special, but different bond between a mom and a daughter), and I count motherhood as one of the greatest of life's blessings.
Momma Loves Her Little Son, by John Carter Cash, is a beautiful portrayal of the love a mother has for her little boy. The book reads almost like a song, which is fitting since John Carter Cash is the son of Johnny and June Carter Cash. The illustrations, by Marc Burckhardt, are warm and vibrant, and they truly make the text come to life. Mr. Cash includes a note to the reader explaining that this book stems from his relationship with his own mother; and, in fact, she often said to him, "Momma loves her little son." This book is perfect for the upcoming Mother's Day holiday, but it is a fitting way to celebrate the special relationship between a mother and son at any time of the year.
I live near Nashville, which is known as Music City because of its ties to the country music industry. Because of this, I was immediately interested when I heard about this book and its connection to the Cash family. It is, however, not just another celebrity's attempt at a children's book. It is one of those stories that will bring a tear to your eye and hold a permanent place on your shelf.
As part of our Mother's Day Giveaway, we have a copy for one of you (a copy will also be included in our grand prize). If you are a mom with a son you hold dear, be sure to keep reading to see how you can enter. Momma Loves Her Little Son is a beautiful book, and I highly recommend it!
Lauren is a wife, a mother of two, and an avid reader. She blogs at Baseballs and Bows.

To enter the 2009 Mothers Day Giveaway of Momma Loves Her Little Son, leave a comment below.
All Mother's Day Giveaways are open to U.S. shipping addresses only.
The giveaway will close on April 30, and the winner will be announced on May 1.
For information on how to enter the grand prize to win a copy of each book in the Mother's Day Giveaway worth over $225, see the instructions on the main post.
Check out the list of all Mother's Day giveaways. Enter to win each book by leaving a comment on that specific post.