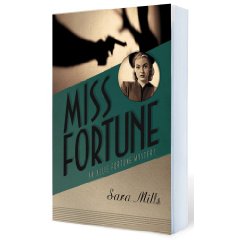 Miss Fortune
by Sara Mills is a book that I'm rather excited about. It's pegged as "Christian fiction" but I'd peg it more as just being "clean fiction" which I heartily appreciated!
The main protagonist in this story is Allie Fortune, the only female private eye in New York City, 1947. In the opening chapters you can almost visualize Humphrey Bogart or something. Drawn blinds, flickering electric lights, 1940's fashion, danger, intrigue and peeling paint on old office walls. The setting Mills gives to her story is true classic appeal. You feel like you are watching a classic movie complete with a few outrageous scenarios that Hollywood liked to throw people's way including burly Soviet Spies racing against time and East German agents. It's seriously good stuff. I enjoyed myself while hunting down stolen gold treasures and long lost beaus. It almost has a Nancy-Drew-A-Little-Bit-More-Grown-Up feel to it.
Sara Mills is also a fan of puns which is a fact easily gathered by the title of the book and name of her main character. If you like mysteries, classic movies, clean reads and good fun – high tail it to your local bookstore and snatch up a copy of Miss Fortune
. Then, once you are done reading this one, you will no doubt feel compelled, just as I was, to read the sequel, Miss Matched.

Miss Match
picks up where Miss Fortune left off and it also leaves in you in a position of waiting for the third book to come out. (This is a serious I can see myself being devoted to for the duration.) If it's possible, Mills writing style has improved dramatically from first to second book and I enjoyed the second book even more than its predecessor.
Allie is an unmarried, marriageable kinda gal in the 1940's with a mother who would desperately like to see her little girl settle down into the care and management of a home. The relationship between Allie and her mother reminds me very much of Lauroli and her mother in The Gilmore Girls (i.e., refined and cultured mother with some bitterness and humor vs. the young twerp that you can't help but love). Sarcasm reigns supreme a few times here and I felt like I was watching a (cleaner) episode of Gilmore Girls and I liked that.
Miss Match
goes at a much faster pace and I was intrigued from page one until the very end. I'm about to name this a "must read" mystery series just because it's so much fun. Looking for a new clean, classic and fun mystery? Look no further, folks! This is it. I'm jumpin' on the bandwagon and intend to ride around for awhile.
As if all of this news, informing you of this book, wasn't great enough, the good news just get better! Moody Publishers, publishers of the Allie Fortune Mysteries, have offered to give away two sets of these two books to one of you readers. Again, TWO sets of the books will be given away to two separate individuals (U.S. Residents only, please).
To win – leave a comment below. We'll announce the winners in next week's column.
As a P.S., I was initially drawn to this book because of the cover art which is so perfectly 1940's. I love the 40's and knew this series would be a perfect fit for me.
The winner of last week's giveaway of The Household Guide to Dying is #17 Stacie.

Other current giveaways include the Latino Books Month giveaway of five books.
Carrie comes by her book obsession honestly, having descended from a long line of bibliophiles. She blogs about books regularly at Reading to Know.