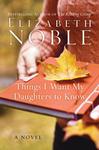 The plotline of Things I Want My Daughters to Know by Elizabeth Noble seems difficult at face value: as Barbara is dying of cancer, she records some thoughts, memories, and advice for her daughters to have after she has gone. Depending on the way it was written, the book could be a four-tissue wiper, or simply a story about how the lives of those grown or nearly-grown young women go on after their mother's death. I had thought from the description that the story was meant to be more of a family drama than a death-bed melodrama.
I hope I don't sound callous when I say that I didn't cry one tear when I read this book. Yes, I got a lump or two in my throat, and objectively the thought of losing a parent is hard — at any age. But as the description of the book alluded, this is really the story of the four sisters. Four young women trying to figure out what it means to grow into adulthood — from the perspective of a teenager, a twentysomething, and two thirty-somethings who are as different as can be. As diverse as their choices and personalities, they all have each other, and they all share their mother in common. From the grave, she is able to tell them things that she couldn't tell them while she was alive — either because she was too afraid, or because they were too stubborn to listen.
This is basically a year in the life — beginning with the funeral and taking them through that first year. As I read, I realized that it's not really about one woman's passing from life. It's about how we all pass through life, as seen through the young women Hannah, Amanda, Jennifer and Lisa. We pass through childhood, into the testing teen years, into young adulthood where we experience changing expectations of ourselves and others, and then through the many stages of marriage and other relationships where we sacrifice ourselves for those we love.
We could read this book with the intent to dwell on the sadness of a life that was too short, or like the daughters do, we can take the words of this fictional heroine to heart: "Life is short. Even if you don't get cancer. Even if you die an old lady in your bed. It's still a blink-and-you-miss-it, ever-increasing-speed-white-knuckle ride" (page 37).
You will see yourself in this novel, in one of these characters. You will see your sisters, your best friend, your husband, your child. Elizabeth Noble writes with spot-on characterizations of people and relationships, and that's one of thing that makes Things I Want My Daughters to Know a great novel.
The book contains a reading guide, and I think it would spark great book club conversations. You can read the first 60 pages online at Harper Collins using their Browse Inside feature.
Managing Editor Jennifer Donovan also blogs at Snapshot about life with her tween daughter and preschool son.

To enter the 2009 Mothers Day Giveaway of Things I Want My Daughters to Know, leave a comment below.
All Mother's Day Giveaways are open to U.S. shipping addresses only.
The giveaway will close on April 30, and the winner will be announced on May 1.
For information on how to enter the grand prize to win a copy of each book in the Mother's Day Giveaway worth over $225, see the instructions on the main post.
Check out the list of all Mother's Day giveaways. Enter to win each book by leaving a comment on that post.