The On Reading column doesn't usually feature a giveaway, but when Erica Bauermeister saw my review of her book The School of Essential Ingredients, she offered up a giveaway.

When I was reading this book, the following passage screamed out to me to be included in this column which features instructive or reflective posts On Reading every Sunday:
Lillian had been four years old when her father left them, and her mother, stunned, had slid into books like a seal into water.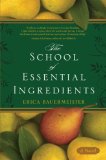 Lillian had watched her mother submerge and disappear sensing instinctively even at her young age the impersonal nature of a choice made simply for survival, and adapting to the niche she would now inhabit, as a watcher from the shore of her mother's ocean.
In this new life, Lillian's mother's face became a series of book covers, held in place where eyes, nose, or mouth might normally appear. Lillian soon learned that the book covers could forecast moods much like facial expressions, for Lillian's mother swam deeply into the books she read, until the personality of the protagonist surrounded her like a perfume applied by an indiscriminate hand. Lillian was never sure who would greet her at the breakfast table, no matter that the bathrobe, the hair, the feet were always the same. It was like having a magician for a mother, although Lillian always suspected that the magicians she saw at birthday parties went home and turned back into portly men with three children and grass that needed mowing. Lillian's mother simply finished one book and turned to the next.
Excerpted with permission from the author from The School of Essential Ingredients (pages 7 – 8 ) by Erica Bauermeister, published by Putnam.
The winner of this contest will receive an exclusive not-available-for-purchase (here) Australian edition of the book. Same text — different cover.
Erica Bauermeister is the author of the novel The School of Essential Ingredients. She lives in Seattle with her family and is working on novel #2. To learn more, go to www.ericabauermeister.com.



To enter the 2009 Mothers Day Giveaway of The School of Essential Ingredients, leave a comment below.
All Mother's Day Giveaways are open to U.S. shipping addresses only.
The giveaway will close on April 30, and the winner will be announced on May 1.
For information on how to enter the grand prize to win a copy of each book in the Mother's Day Giveaway worth over $225, see the instructions on the main post.
Check out the list of all Mother's Day giveaways. Enter to win each book by leaving a comment on that post.