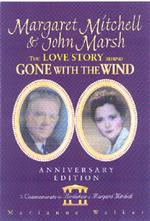 Margaret Mitchell and John Marsh: The Love Story Behind Gone With the Wind
is one of those books that I just feel the need to write out of my system. It was — wow! Leaves me feeling rather breathless. Published by Peachtree Publishers (out of Atlanta, Georgia, no less!), this book appears to be rather hard to find these days, but you can still grab a copy from Peachtree directly if you'd like to find a new edition.
If you've ever been curious about the woman behind Gone with the Wind
then this is the book for you. At 517 pages it's not a quick and easy read but it is incredibly thorough. I had the same feeling when I finished reading Gone with the Wind
.
I read GWTW for the first time when I was in high school at the behest of one of my best friends who was in love with the story, for reasons which were unknown to me. I read the book and shrugged my shoulders. My friend made me watch the movie with her. More than once. (I forgave her.) Slowly but surely I was drawn into the tragic love story of Scarlett & Rhett. Mitchell herself seems to have had a rocky road to love but she had John Marsh shared a good marriage, from certain perspectives. They loved and were loyal to each other once they were married but they had a rough road getting there (Read my Books on Screen post HERE).
There is no denying that there is a parallel between the life of Scarlett O'Hara & Margaret Mitchell. Mitchell apparently had the same charm and desire to trifle with the affections of countless men in her day. She was quite the looker and came from a well-to-do and well-established family in the south. The author of this book, Marianne Walker, seems to have a genuine affection for the subjects of her book – Margaret & John. I confess that I do not have admiration so much as I have great pity for two people who seemed more miserable to me than happy.
Did they love each other and were they devoted to one another? Yes. She relied on him to protect, care and provide for her. He was happy to do so. But she was generally a stressed-out, emotionally charged spitfire of a woman who was nervously ill a great deal of the time and suffered from depression. Some of the letters which Miss Walker included in this book contained pleas from Margaret Mitchell to her friends to have them tell her what was wrong with her, if they knew. She knew something was missing from her life but she wasn't sure quite what. John couldn't help fulfill her soul needs and so they stumbled about aimlessly to a degree, never really knowing what to do with their successes, failures, public attention, etc. They lived by trial and error and the only thing that could really be said is that they found comfort in each other. That offers some relief but not much.
The picture that is painted of Margaret Mitchell is so like that of her beloved character, Scarlett, that I have a hard time really appreciating her for her. Mostly I just feel an overwhelming sadness that she was surrounded by people, none of whom seemed to be able to really help her grapple with the age-old question of what her meaning and true purpose in life truly was. So she has this great writing success which was phenominal but she took no genuine pleasure in it that could last long term. It's sad and disheartening.
That said, I think that to read Gone With the Wind is to know Mitchell and to read this book of her love story to John Marsh is to know Gone With the Wind. Her life and Scarlett's seem very wrapped up in one another and I've never been more grateful for my life, my own personal successes and failures, my marriage and my faith. This was a hard book to read, but it was also a good one.
Carrie comes by her book and holiday obsession honestly, having descended from a long line of bibliophiles. She blogs about books regularly at Reading to Know.