Every once in a while, my husband will ask me what I'm reading. (I read so much, he can't keep track of when I finish one book and start another…and I always have at least two books going at once.) When I told him about Sarah's Key, he asked, "How could you put it down to come to bed?"
Believe me, it was difficult.
Tatiana de Rosnay's first English novel is a beautifully crafted fictional account of a true event, the Vel' d'Hiv' roundup in Paris 1942. I had never heard of this horrendous time in France's history. At the orders of the Germans, the French police plotted to round up all the Jews in Paris. The thousands of men, women, and children were held captive in Velodrome d'Hiver (a stadium where bicycle races were held) for days before they were transported to various camps throughout France. Most were sent to Auschwitz where they met with gruesome deaths. Many of the children arrested were actually French citizens.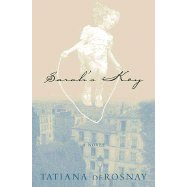 Sarah Starzynski is 10 on that fateful morning when the police bang at her family's door. In the chaos and without her parents' knowledge, Sarah locks her 4 year old brother, Michel, into their secret hiding place in the family's apartment. He has water, a flashlight, and picture books to keep him occupied. She tells him she'll come back to get him in the afternoon. She doesn't realize that her life is about to change forever.
In May 2002, Julia Jarmond has lived in Paris for 25 years. She's been married to a Frenchman for nearly 20. Still, she's never heard of Vel' d'Hiv' until she's asked to write about the upcoming 60th anniversary. Julia's research upsets her father-in-law, who begs her to leave it alone. Not persuaded to give up her investigation, Julia learns that the man has a connection with Sarah and Michel that he's kept a secret for 60 years.
de Rosnay expertly pieces the story together. She alternates between a third-person narrative of Sarah's arrest and captivity with Julia's first person account of how the knowledge of the Vel' d'Hiv and her family's tie to it will impact her life forever.
Sarah's Key is a beautiful, yet haunting, work that will stay with me for a long time.
Melissa has been captivated by books for as long as she can remember. She resides in Virginia and at Breath of Life.