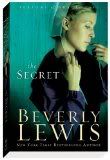 Beverly Lewis is the bestselling author of over 70 books for adults and children. If you are familiar with her stories, you know that many of her novels stem from her Pennsylvania Dutch descent. The first series that I read by Mrs. Lewis was her Abram's Daughters series. Although I have read many more books by Mrs. Lewis, the Abram's Daughters series remains my favorite.
After reading many novels about the Amish people, I took a break from them for a while. When I heard that Mrs. Lewis was starting a new series called Seasons of Grace, however, I decided to return to Pennsylvania Dutch Country. The first book in the series, The Secret, is wonderful. It includes the usual aspects of Amish life, but the challenges faced by the characters are anything but peaceful and idyllic.
The Secret is the story of Grace Beyler and her family. The Beyler children are nearing the age of marriage when the unthinkable happens—their mom leaves them. As the Beylers wonder why their mom has deserted them and if she will return, Grace, the oldest daughter, steps up to fill the void. Not only does this challenge Grace, but it leaves her confused about her own choices and her future.
While The Secret has a tidy ending, many questions are left unanswered. I look forward to reading the future books in this series. Grace is such a likable character. I will be rooting for her as she deals with the difficulties and hoping that she finds happiness in the end (and really, I'm sure she will, but I will enjoy the journey). I don't know if this series will replace Abram's Daughters as my favorite, but it does have a chance. If you enjoy Beverly Lewis or learning about the Amish culture, be sure to read The Secret. I am sure you will enjoy it as much as I did.
Lauren is a wife, a mother of two, and an avid reader. She blogs at Baseballs and Bows.