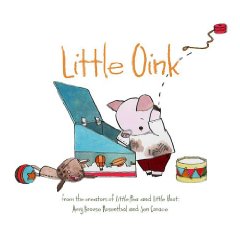 Please remember and note my previous excitement over the books Little Hoot and Little Owl which I reviewed a short while ago. Imagine my excitement and glee then when I was informed that another installment in the series by Amy Krouse Rosenthal was due to be released! Here it is, folks! Little Oink
! I love it just as much as the other two!
In this book, Little Oink wonders why it is that he has to keep his room so dirty. All of his other friends "get" to clean his room and he wants to be able to do the same. But Papa Pig says, "If you want to grow up to be a respectable pig, you must learn how to make a proper mess." So despite his wishes, Little Oink must engage in mess up time. It's a cruel world for a little pig, really.
This book is just as endearing as the other two books. My two year old really hasn't engaged with them just yet, but his mother sure has! I'm sure that, in time, he'll learn to appreciate these books more completely. I'll do my best to make sure that he does! These are seriously some of my favorite kid picture books ever! Can I use any more exclamation marks!? (!!!) I love the creativity involved in it. So, you rushed out and found copies of Little Hoot and Little Pea
, right? Add Little Oink
to your list!
Enjoy!
P.S. For a different style of book by Rosenthal, check out her other new release, Duck! Rabbit!
. Is it a duck or is it a rabbit? You be the judge!
Carrie comes by her book and holiday obsession honestly, having descended from a long line of bibliophiles. She blogs about books regularly at Reading to Know.