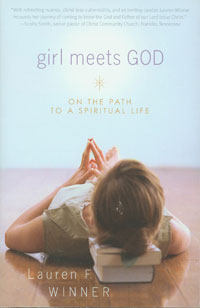 I just snapped Girl Meets God
shut and I'm not quite sure what to say. I probably shouldn't start writing a review just yet as I'm pretty sure I just need to let the words in this book linger for a little bit without too much thought being added. But nah. I'll write it out anyway, ignoring the nagging feeling that I should just sit and soak.
I'm admittedly behind the times when it comes to this particular book. A friend of mine read it when it first came out – in 2002 – and told me I should read it. I said I would. (I always make good on my promises!) I've read it now and I'm not sure why I waited so long to do so.
Girl Meets God
tells the fascinating story of Lauren Winner who converts from Orthodox Judaism to Christianity. This book documents her conversion experience, which can't be pinpointed to a particular day or season but just sort of became. Like me, she was a teenager who cared about knowing what she believed and why. She spent a lot of time focused on learning how to be a good Jew as she was growing up in a broken home. I think her study of religion was how she managed to remain grounded — an attempt to feel secure, if you will. Actually, this book brought to mind The Year of Living Biblically
which I read last year. (See my review of The Year of Living Biblically here.) I am a Christian fascinated by the Jewish culture and there are things I still really don't get but enjoy learning about. I had the opportunity to learn a little bit more about Jewish life by reading this book.
This book is not at all preachy. It is curious. It is informative and engaging. She is not pushing a message – she is just sharing her life facts. She shares about her conversion in an almost esoteric manner. At 296 pages it almost could be described as being overly subtle and too long but I really did think she had a beautiful writing style and I personally enjoyed it very much. She's not very pointed. She takes her time. When she makes her point you could almost miss it. But it's still beautiful and it's still her story if you are interested in hearing it.
I'd recommend this book in a heartbeat to anyone. I'm curious as to why she wrote the book, while being equally glad that she did. I'm not sure if she answered more questions or just asked some additional ones for me to think about it. It certainly IS a book that is going to make you think. As an additional aside – the cover art on this book describes exactly what this book is about. I've never seen cover art more aptly selected. Just stare at the picture for awhile and you can get a feel for the book.
Well, we've had since 2002 to read it and if you haven't yet I'd suggest you hurry and catch up when you have some time to really delve into it and glean. I'm STILL gleaning and probably will not forget this book anytime soon.
Carrie comes by her book obsession honestly, having descended from a long line of bibliophiles. She blogs about books regularly at Reading to Know.