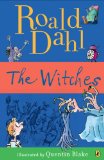 Roald Dahl is perhaps most famous for Charlie and the Chocolate Factory but he has a delightfully creepy offering that you may want to squeeze into your Halloween plans: The Witches. As The Witches begins, we are quickly disabused of the notion that witches wear black pointy hats and fly around on broomsticks. Oh no. Witches look just like you and me. They could be anywhere. They seem like nice ladies and it is only if you look very closely that you can tell who is a witch. Luke's grandmother makes sure that he knows how dangerous witches are and how to recognize them. But it seems sometimes just knowing is not enough. When Luke and his grandmother find themselves vacationing in the same hotel as a witch convention, things become very dangerous. He uncovers a plot by the witches to turn all the children of England into mice! But can one little boy possibly stop so many evil witches?
Dahl's book is probably best read by fourth graders and up. There is some challenging vocabulary, but basically this book is designed to send shivers up your spine and may be quite scary to younger readers and listeners. There are some chilling descriptions of what witches do to children, but it is the kind of scary that readers who are old enough (and not prone to nightmares) will find fun and just the right combination of spooky and gross.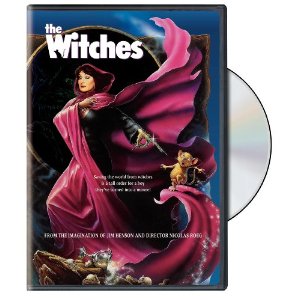 For the most part The Witches movie is a wonderful adaptation of Dahl's book. Anjelica Huston is brilliant as the Grand High Witch. I must say, however, that even the scary witchy make-up that Huston sports for her role is nothing on Dahl's vision of a face rotting away as though it had been eaten by maggots. And of course, Jim Henson's touch is clear in the mouse-y chaos that is a big part of the story; could you imagine anyone you'd trust more to create magic? The result is that the mice are adorable and will compare favorably to today's digital or live action animation techniques.
Overall, the movie remains quite faithful to the book, although there are a few additional scary moments thrown in. The only thing I found truly disappointing was the ending. The movie ending is happy in a way that Dahl did not intend. I really feel the book was perfect just the way it was, but I know that sometimes movies feel the need to make things come out right. If you just eliminated the last part of the last scene, it would have been terrific.
Ending changes aside, both the movie and the book are great fun and I truly believe they will be enjoyed by children who like to feel a bit scared. You know your little ones best and I'm sure there are some young ones who would delight in this, but be judicious. Mixed in with the cartoonish scariness of witches frizzled up and cutting off mousie tales with carving knives, is the real tragedy of Luke's parents being killed in a car accident (which occurs in both the book and movie) and the book's ending is much darker than the movie.
For more Halloween goodness, visit Mrs. N at Between These Pages where she spent the month of October reading all the wizard and witch books she could get her hands on. From positive role models to racist slurs, from fabulous read alouds for little ones to books best saved for more mature teens, find out what's really happening inside your child's books.