My taste in fiction often tends to stay pretty static– a modern day novel with an articulate female protagonist who is working through some personal crisis, usually written by an American author. Upon realizing this with a fair share of shame last year, I vowed to expand my reading horizons and began to purposefully choose books outside of my comfort zone. This led to several amazing literary experiences (and a few admitted busts), and when the end of the year rolled around, I added several books in this vein from 'best' lists that abounded in late December. Alfred & Emily, by Doris Lessing, made it onto my reading pile in this way.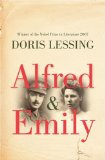 The premise of this book was interesting to me from the beginning. Ms. Lessing presents us with two stories of her parents, Alfred Tayler and Emily McVeagh, the real account of their lives forever stained by the 'Great War,' as well as an imagined one that could have existed had World War I never occured. She begins with her fictionalized account, referred to as a novella, which lays out two parallel lives in beautifully descriptive prose, peppered with emotion as even these imaginary lives contain their fair share of pain and difficulty. The flow of time is not laid out consistently, which took me by surprise at times, but the characters are complex and kept me engaged in the story.
In the second part of the book, Ms. Lessing tells the real story of her parents' lives, full of heartache and suffering as a result of their individual experiences as a soldier and a nurse during the war. The chapters read like separate essays, as she describes her childhood years in Southern Rhodesia (modern day Zimbabwe), and the multitude of ailments that struck her parents through the years, both physical and emotional. She frequently reflects on her tumultous relationship with her mother, and the resentment she felt as a young person toward her parents is palpable.
I would not describe this as an uplifting read, but I certainly appreciated the beauty of the language and a tale in a time and place that is unfamiliar to me. The scope of these stories is expansive and engrossing– a completely unique manner to honor two lives.
Dawn wishes she had a walk-in kitchen pantry where she could hide from her children to read and eat Girl Scout cookies. She and her blog, my thoughts exactly, are currently up for exactly zero parenting awards.