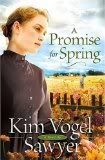 In 1869, Emmaline Bradford said good-bye to her sweetheart, Geoffrey Garrett, when he left England to start a new life in America. He promised to return and marry her in one year. Five years later, Emmaline finds herself travelling across the world to a place called Kansas to meet her husband-to-be. Unfortunately, Emmaline can barely remember him, and she only makes the journey out of obedience to her father. Geoffrey is ecstatic over Emmaline's arrival, but when she refuses to marry him, he makes a deal with her: if Emmiline will stay in Kansas until spring, Geoffrey will pay for her return trip to England.
If you are a fan of historical Christian fiction, you will enjoy A Promise for Spring. The plot reminded me of Janette Oke's Love Comes Softly, but both of these characters were a bit more flawed than the strong and stable Clark Davis. Emmaline and Geoffrey's lack of communication was almost comedic at times, but it was a reminder of how important clear communication can be in a relationship. I couldn't help but admire Emmaline as she faced the challenges of life on the prairie—a far cry from her idyllic life in England—and I grew frustrated with Geoffrey's clueless efforts to help her adapt (a male reader/reviewer might offer his sympathies differently). While I knew the characters would end up together in the end, I enjoyed their journey, and I appreciated the message of the story: we can place our troubles in God's capable hands.
This is the third book by Kim Vogel Sawyer that I have read, and I have enjoyed them all. If you are interested, check out my reviews of My Heart Remembers and Where the Heart Leads.
To win a copy of A Promise for Spring
, leave a comment on this post.
We'll announce the winner on March 25.
Lauren is a wife, a mother of two, and an avid reader. She blogs at Baseballs and Bows.