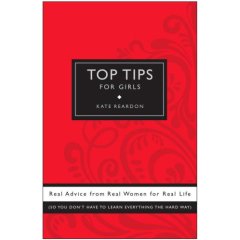 As far as we think we've come in our modern American culture, I often think that we have missed the boat when it comes to community. And it seems that woman suffer for it more than men do. It used to be that we lived in multi-generational communities. When women got married and had babies, they had the benefit of older, wiser women in their lives to give them tips and advice on marriage, raising kids, and running a household.
Nowadays our neighborhoods and churches are often segregated by age. Most of us have moved away from our families. And we often feel isolated and alone, especially when it comes to running a household and raising a family.

Top Tips For Girls is a website designed to bridge the gap. It's a collection of tips from regular women on raising kids, staying fit, dressing well, dating, dieting, traveling, and working. It's a place to get advice on a myriad of topics. It's the kind of advice that used to be passed down from grandmothers to mothers to daughters.
More recently, Kate Reardon has taken her website one step further and collected all of this sage advice into a book named, what else? Top Tips For Girls.
I have thoroughly enjoyed reading this book. My copy is already dog-eared from the many pages I've folded down, to help me easily find the tips that I want to recall. Not only is it informative, it's clever and humorous. For instance:
HOW TO BUY SHOES – Always buy shoes after drinking one glass of wine (no more). Then you are a little adventurous but haven't lost your good sense. Come to think of it, you should do nearly everything after just one glass of wine.
-lolabelle
Most of the advice is more practical, such as HOW TO STOP CUT POTATOES FROM BROWNING – Keep them in a pan of water till you are ready to use them.
-Floris
This book would make a great little birthday gift for a girlfriend or sister. I don't recommend you giving it to your daughter, however, at least not until you are ready for her to read about "how to be good in bed" and "how to forgive him for paying for a lap dance". AHEM. There really is some great advice in the section on Relationships, but some of it might be more information than you want to share with the under-age girls in your life. Just an FYI.
There are sections on just about everything you can think of from gardening to cooking, from clothes to accessories to shoes to beauty, from dating to relationships to weddings, to pregnancy and parenting to work to finances. There are green tips, travel tips, and safety tips. It's a great little collection of advice, and I guarantee you will enjoy it.
Jo-Lynne blogs daily at Musings of a Housewife, and she runs a beauty product review blog, Chic Critique