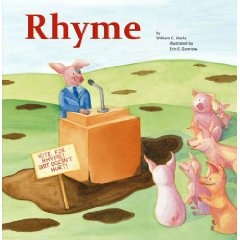 When I recently reviewed a book about Preparing your Heart for Christmas, I mentioned that I'm usually a little slow on the uptake — meaning that I only start studying or meditating on the meaning of Christmas after I experience Christmas.
The same thing happened for Martin Luther King, Jr. day. When the day came, I started thinking about him and his life, so decided at the last minute to reprint a review that I had done on my blog for Freedom Walkers.
Inauguration Day hit me in the same way. I surprised myself when I got so caught-up in this historic inauguration, since I don't really pay attention to politics in general.
Then a copy of Rhyme by William Marks came across my doorstep offering a perfect opportunity to think about politics a little more.
Amanda, age 10, picked it up on her own and enjoyed it before I could even read it, and Kyle, age 4, was interested as well. The illustrations by Erin Gennow are friendly and appealing. The text makes for a great story, but the subtext opens the door to so much more, if you desire.
This is the kind of book that would be great if you are teaching your children about politics, or more accurately — politicians. It has so many clever allusions to well-known speeches (handily indexed in the back), such as JFK's "Ask not what your country can do for you," Ronald Reagan's western wall challenge "tear down this wall!" and FDR's "only thing we have to fear is fear itself."
Rhyme (the pig) was "smart, friendly, popular and ambitious. He loved his town, Muck. When he grew up, Rhyme decided to become a politician" (page 5). He campaigns, gives speeches, and even has a slogan: Dirt Doesn't Hurt.
If you are a politics buff, or want to learn more about the campaigning process, or if you like pigs, give Rhyme a look. It's the kind of book that begs to be read again and again (if nothing else, just so that you'll get the subtle references that you missed the previous go-round).
Managing Editor Jennifer Donovan also blogs at Snapshot about life with her tween daughter and preschool son.