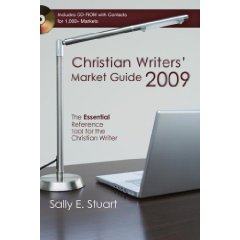 I remember the first Writer's Market guide that I bought. It was in my early years at college and I bought it from a Half-Price bookstore in Houston.
I'm not exactly sure what I had in mind. I knew that I enjoyed writing, and I thought that I had a fair amount of talent, I guess, but I'm not sure what sort of wisdom the nineteen-year-old me had that was worth peddling.
In spite of the fact that I never made one query or wrote one article, I enjoyed looking through the Writer's Market learning about different markets and what they were looking for.
Recently I've bought — and actually used — Writer's Market. I knew that there was a version for Christian markets, but I had never bought it, even though the few small paid publishing jobs I've gotten have been in Christian markets.
That said, I was excited to get my hands on Sally Stuart's Christian Writers' Market Guide 2009.
This market guide provides information that the more general Writer's Market cannot provide for such a wide audience. Some of the topics covered include
contest listings
market analysis of the periodicals listed in addition to the most popular topics covered by the periodicals
writing groups, conferences and workshops
and of course magazine markets, book publishers, and literary agents
If you enjoy writing, I assure you that there is a market that is probably looking for what you have to contribute. If you write from a Christian perspective, the Christian Writers' Market Guide 2009 will give you helpful tips and ideas which can help you get published if you are willing to do the work and the research.
Managing Editor Jennifer Donovan also blogs at Snapshot about life with her tween daughter and preschool son.