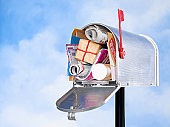 If it's Monday, it's must be time to head to the mailbox! We've enjoyed participating in Mailbox Monday, a fun book blog carnival begun by The Printed Page. All this month Chick Loves Lit has been hosting, so head over to check out the many books that have graced readers' mailboxes and doorsteps this past week, and be sure to share your own excitement of books received!
DAWN
I have a household of happy, happy children this week following several days of packages, both expected ones and wonderful surprises.
From Scholastic:
From Sterling:
Man Gave Names to all the Animals by Bob Dylan, illustrated by Jim Arnosky — The illustrations are magnificent and although I'm not familiar with the Bob Dylan song, my kids are huge fans of books that have accompanying CDs. I anticipate this will be a big hit.
Peter Pan and Wendy by J.M. Barrie, illustrated by Robert Ingpen — Can you believe I've never read any of the Peter Pan stories?? It might be time to correct that, thanks to Sterling!
From DK:
From Chronicle:
Day & Night — If you went to see Toy Story 3 in the theater, you've got to remember the cute animated short that was featured before the movie. Here's the book version, with the same fun images and storyline.
A Long Piece of String by William Wondriska — Described as a "rediscovered classic," this one caught my eye on a press release, and I'm excited to share it with my kids.
JENNIFER
From Scholastic:
From MacMillian Audio:
Freedom by Jonathan Franzen — I have heard so much about this guy and this book — he was just on the cover of Time, as well as being featured in many lists about upcoming releases that reviewers/editors look forward to. It is LONG — 19 CDs and almost 20 hours — but I've been on an audiobook roll, so I decided to tackle it.
We'd love to hear what you've been happy to receive lately or if any of these titles make you anxious for our reviews! We also invite you to join in our carnivals each Tuesday: from Kids' Picks to What's on Your Nightstand, to a Children's Classics challenge. Join Us!

You can also check out our current giveaways, subscribe to our feed, and/or follow us @5M4B on Twitter.