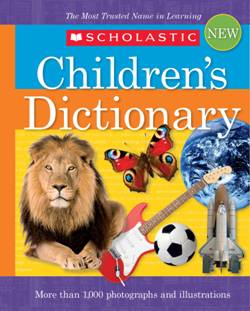 When I think "children's dictionary," I think large type and dumbed-down simple words and definitions. Well, I'm glad that I actually took a look at it, because the Scholastic Children's Dictionary (2010 Edition) is anything but. It's a 799 page hefty reference tome with simple, yet complete definitions of a lot of words. It also includes reference sections: a thesaurus, a few maps, a guide to the U.S. presidents, and flags of the U.S. and the world.
I love dictionaries. I admit that I often go online to check a word if I'm writing I'm on my computer, but I like using "real" dictionaries as well, and I definitely encourage my children to go "old school" with these types of things. Although this is "just" a dictionary, I can see children being captivated by the pictures or graphics alongside the word that they are looking up, and actually browsing around a bit.
Earlier this week, my 6-year-old son Kyle was asking me what "harmless" meant. I tried to take advantage of the parent as teacher role, asking him if he knew what "harmful" meant (No). Or "harm"? (No again, with the protest "If I ask you a question, just answer it. Don't ask me a different question.").
Had I sent him to this dictionary for the answer, he would have found out that it meant "Not able or likely to cause injury or damage, as in a harmless joke." That simple definition could be a springboard for a conversation in ethics about what a harmless joke might be, versus one that would cause damage.
Or if I left him alone, he might have been captivated by the picture of a harp, the word history box explaining harmony, or the picture of a hatchet on the facing page (Oh yeah, it would totally be the hatchet).
To find out more, visit the product information page (and a great direct-buy price) at Scholastic HERE.
One grand prize winner will receive a back-to-school prize pack of a $50 Target Gift Card for Back to School Supplies and a copy of the Scholastic Children's Dictionary.
Five additional winners will receive a copy of the Scholastic Children's Dictionary.
Winners must have a U.S. shipping address. Just leave a comment if you'd like to win. We'll announce the winners on September 1. THIS GIVEAWAY IS CLOSED.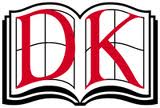 For more great children's books that will increase your kids' love of learning,
check out the giveaway at 5 Minutes for Mom of 3 awesome DK Science titles
.