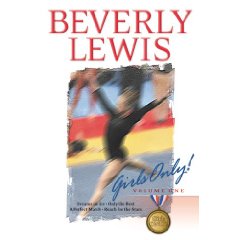 Unlike me, my daughter isn't much of a reader. I'm always on the lookout for good books that will encourage her to read, and maybe spark a life-long passion that we can share. I'm hoping the Girls Only!
series by Beverly Lewis will do just that.
Both volumes of Girls Only! contain four stories of girls who are striving for Olympic Gold. Sixth graders Livvy, Jenna, Heather and Manda all live in a small town in Colorado. The friends form the Girls Only club to encourage each other in their athletic pursuits and their faith in God.
In "Dreams on Ice", Livvy and her father leave Chicago where they are flooded with memories of Livvy's recently deceased mom. Livvy's mom supported her dream of ice skating in the Olympics, and now Livvy doesn't know where to turn. She and her pen-pal Jenna end up living in the same town and quickly become a support system for each other. In "Follow the Dream" (from Volume II), Livvy's grandmother moves in and disrupts the balance Livvy and her dad have finally found. Can Livvy realize her dreams with her meddlesome grandmother around?
The other stories follow Jenna (gymnastics), Heather (ice dancing) and Manda (skiing) as they come to learn that the road to the Olympics is anything but easy. I think this is a great series for tween girls to realize the value of faith, friends, and dreams that are worth dreaming.
Melissa has been captivated by books for as long as she can remember. She resides in Virginia at at Breath of Life.