Think of this bit as a preview before the coming attractions. Fitting right? But I had to take the opportunity to share this with you:
All week long redbox's redblog is focusing on "from page to screen," with Film Adaptation Week, and Erika Olson interviewed Dawn and me about our thoughts. I weighed in on children's and young adult movies, while Dawn passionately defended novels for adults.
You might remember that last year I interviewed Erika Olson for our column here, about book to screen adaptations (Part 1: Adapting to Adaptations, and Part 2: Better than the Book), so we were thrilled to return the favor.
Please check out both articles and let us know what you think! And now, back to the coming attractions. . . .
Sometimes I see previews for so long before the movie actually comes out that it seems old hat, but as infrequently as I get to the theater, I love extending the whole movie experience by really getting into the previews, so I thought I'd give you some previews here (click the title link to see the preview):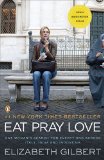 This movie has already received a lot of criticism, as has the book for that matter. Many people love it, but others are quite vocal in their dislike of it.
I liked the book, a lot. Actually I listened to the audiobook, read by the author, so I feel like I know the "real Elizabeth," which might be further hampered by Julia Roberts' portrayal. However, I think she's a good fit, and I think that the movie will probably translate well to the screen.
Have you read the book? Do you want to see the movie?
Of course there's already a movie tie-in version.
I think I'll probably see it the week it comes out, and hope to write up a review. I might even run the column on Friday instead if I can see a showing the morning on August 13.

I had heard something about Jack Black doing Gulliver's Travels, and then when I interviewed Jason Segel, he mentioned that he was in it. I'm reading the book now, and I was skeptical about the movie, thinking that it would just be one big sight gag. However, once I saw the preview, it looks like an updated story with the travels added in, and I think it might work.
You can't usually go wrong with Jack Black. Even if it doesn't work, it will be funny, right?

First, can you believe that I STILL haven't read this last book? I bought it last summer. Amanda read it. I didn't. It keeps going on the back burner, and I think that I just don't want it to be over. I definitely need to get to that.
The movie is out November 19, 2010 with part two following in July 2011. It looks pretty creepy, but I definitely need to read the book before I find out anything about it accidentally.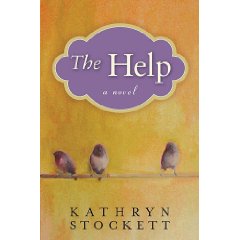 One of the awesome surprise packages that I received while I was on vacation was a hardcover copy of
The Help. I loved this book (linked to my review way back in February 2009), but had still never bought a copy other than my ARC copy, so I was thrilled. The book came from Dreamworks studios and the press release gave some information about the movie. Everyone's been wondering who should play those characters that they all love so much (or love to hate). So, here's the news straight from the studio:
Skeeter notwithstanding, I think I love the actresses cast so far.
But here's your chance. Last call. Read the book now if you haven't already, and you'll still be able to exercise my 6 – 12 month buffer so that you aren't too nitpicky about it.
This just in: Would you like to visit the set of the upcoming film THE HELP, and meet the all star cast? Here's your chance!
To Enter: http://the-help-ivillage-community.fotobabble.com/
For Official Rules: http://www.ivillage.com/official-rules-help/1-a-218422

Are there any books on screen that you are looking forward to seeing? Or afraid to see? (And remember to go visit Dawn and me over at redblog today).