Shortly after school was out, Nim's Island was showing at our local discount theater. I wasn't sure how Kyle (age 4) would do at a live-action movie that looked to be fairly heavy in plot. For $2.00 and two hours in a dark air-conditioned theater I was willing to risk it. He did fine. The antics of two animals evoked a hearty guffaw often enough to hold his attention.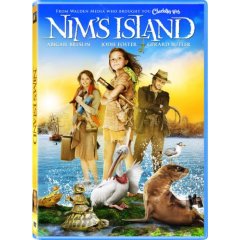 Amanda (age 9) and I (a lady never tells) really enjoyed the movie. Yes it was cute, and funny, and a bit of an adventure, but it also deals with deeper themes such as facing your fears, protecting what you love, and protecting who you love.
From what I understand, the novel by Wendy Orr, upon which the film is based, is perfect for younger readers (perhaps six to nine). At only 125 pages, it's a book that even a reluctant or slow reader would be able to polish off in a reasonable amount of time.
Seeing this movie actually sparked the idea for this column. Not only is the movie based on a book that probably didn't get much attention before the movie was released, but the 11-year-old Nim is a book lover. She eagerly awaits the books that arrive for her in the infrequent cargo shipments that she and her father receive on the remote island that they call home. She is shown staying up late at night reading, and narrates the fact that through books, she can experience everything. The fact that reading is an adventure is a point that is definitely made.
I don't know if I've ever felt this way about a film, but as I watched it, I almost felt as if I were in a book. You know how a good book allows you to suspend reality? For some reason the visual medium of a movie does not create the same sense for me. This one did.
Nim's Island is released on DVD on August 5. I highly recommend buying or renting this family movie that will entertain all ages.
Managing Editor Jennifer Donovan is a contributing editor at 5 Minutes for Mom. She has been blogging at Snapshot for over two years. You'll almost always find her holding either a book, a fork, a child's hand, her laptop, or some combination therein.