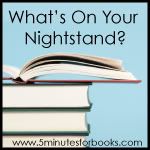 It's almost 2009, and here's a chance to think about what you might be reading as the calendar flips over. I know that I have a lot more reading time this month — between driving to Virginia for Christmas (my husband drives; I read), and slower school/activity schedules with the break, not to mention snowy days that keep me homebound!
So, what about you? What are you reading this month? Perhaps you are hoping for a certain book under the tree that you know you'll dig right into. Or you have books that you haven't been able to get to because of the busyness of the season. Let us know.
As always, you can give a brief review of the books that you read this past month as well.
Anything goes — just tell us What's on Your Nightstand?
And if you want some ideas about how to spend some Christmas cash or bookstore gift certificates, be sure to browse the other participants' lists. I'm sure you'll get some great ideas.

Our January Classics' selection is Hamlet. Check out our Hamlet preview HERE as well as reminders about upcoming Tuesday features.
Link up to your direct blog post here:
What's on Your Nightstand? Participants
Powered by… Mister Linky's Magical Widgets.