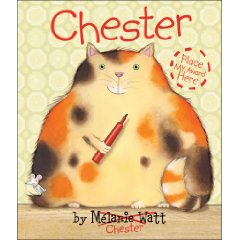 As a fan of Scaredy Squirrel, I was expecting a lot from Melanie Watt's new character, Chester. I don't know that he has the universal appeal of Scaredy Squirrel (since the themes in those books speak volumes whether you are four or forty), but as far as clever humor goes, they definitely deliver!
In Chester, Chester the cat goes head to head — or typefont to red marker — with author/illustrator Melanie Watt. Melanie is trying to write a story about a mouse, but Chester won't have it. He interrupts her narration and drawings with his own red-marker edits.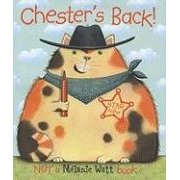 In Chester's Back!, the author Melanie has finally had enough. She holds open call auditions for a replacement of the Chester character, but of course Chester aims to stop anyone from replacing him, and in fact he tries to replace Melanie.
These picture books are silly and fun. My kids (10 and 4) love both Chester and Chester's Back!. They laugh out loud at the silliness, and Kyle (4) seems to find something new each time we read either of these books.
Managing Editor Jennifer Donovan is a contributing editor at 5 Minutes for Mom. She blogs at Snapshot about daily life with her tween daughter and preschool son.