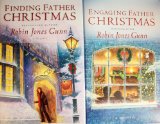 I'm a pushover for sappy holiday movies and books. The twinkling lights, the snow-covered scenery, and the romance in the air all give me the warm fuzzies. That's what I enjoyed about Robin Jones Gunn's novellas Finding Father Christmas/Engaging Father Christmas (Father Christmas Series 1-2)
. Both books are full of Christmas cheer, home fires burning, and hearts falling in love.
Miranda Carson is alone in the world. Her mother, an unmarried actress, died when Miranda was 11, leaving her no siblings and few clues about her father…a birth certificate, a playbill, and a wallet-sized photo of a crying boy sitting on the lap of a gentleman dressed up as Father Christmas. Now in her late twenties, Miranda flies to England in search of the photography studio listed on the back of the picture. Her journey leads to the small town of Carlton Heath, and into a cafe named The Tea Cosy (doesn't that sound divine?). Miranda makes new friends and finds her family…and learns the true meaning of Christmas.
In the second book, a year has passed and Miranda goes back to Carlton Heath in hopes of receiving a proposal from the handsome Ian. Miranda is eager to share her first Christmas with her new family,and isn't quite ready for the struggle to find her place with them. As she seeks love and acceptance, Miranda discovers that only the One who created Christmas can bring peace to her heart.
If, like me, you enjoy all things sappy and holiday, you'll definitely want to visit Carlton Heath. I'm sure Katherine will have some tea and scones ready, and Ellie is just waiting to take you under her wing.
Merry Christmas, everyone!