I've been a fan of author Susan Meissner since I read The Shape of Mercy, (review here), so I was excited to have an opportunity to read Meissner's newest book, White Picket Fences.
In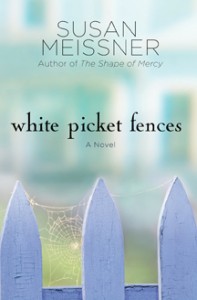 Fences, the Janviers are the perfect family with the beautiful home and "white picket fence" lifestyle. Neil is a financial advisor who spends his spare time making exquisite furniture that he gives away. His wife, Amanda, is a reading teacher. Their children, Chase and Delcey are All-American teenagers. Yet beneath the perfect facade, secrets are weighing down on Neil, Amanda and Chase. Their family foundation is beginning to crack.
Enter Amanda's niece, Tally. Tally's father has disappeared. Amanda agrees to take Tally in to their home, not expecting that the girl's visit will change her family forever.
Meissner has crafted another touching story, filled with characters who cause us to consider our motives as parents and to examine our hurts, and who remind us that no family is perfect.
Thanks to Waterbrook Press for allowing me the opportunity to read this thought-provoking book.
Melissa has been captivated by books for as long as she can remember. She resides in Virginia and blogs at Breath of Life.