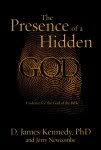 Where is God? Why does He seem so far away, and maybe even absent? Is He hiding? There have many times in my journey with God where I have asked these questions; perhaps you have as well. I have–more often than I care to admit–felt like I was lost in the dark, groping, stumbling, and frantically searching for the Light.
In his book, The Presence of a Hidden God, D. James Kennedy, along with coauthor Jerry Newcombe, addresses the question, Is God hidden? The first portion of their book analyzes the overwhelming evidence of the Creator in the physical world. Examples ranging from astronomy to the amazing complexity of the human body confirm the existence of an all powerful, wonderfully creative God who has made all things to reflect His person and His glory. The authors also briefly explore the folly of atheism.
I'll confess, I'm a simple minded girl and while statistics on lightyears and moon tides prompt me to ponder the magnificence of the God who has made all things and declared them good, it is enough for me to know God is. The second portion of the book, however, turns to the revelation of God in the person of Jesus Christ. Consider John 14:8-9 where Philip asks Jesus to "show us the Father and it is sufficient for us." Jesus replies, "He who has seen Me has seen the Father." In Jesus lies the fullness of God.
God is not hidden. Rather, He is revealed in Christ. How do we find Him? How do we see God in those times He appears to be hidden? We look to Christ. As we seek Him, His Word promises we will find Him as we seek Him with our whole heart.
The book concludes with an examination of those shadows in our lives that seem to obscure our view of God: doubts, suffering, and the evil around us. Sometimes we question the sovereignty of God, assuming that "if God is love, then why ____?" Again, Kennedy and Newcombe entreat us to look to Jesus Christ.
Surely you've had times of doubt, as I have. Surely you've felt lost and alone and far from God, as I have. The Presence of a Hidden God offers assurance to us in those times He seems hidden: God has clearly revealed Himself in Jesus Christ.
You can read an excerpt here.
"For it is the God who commanded light to shine out of darkness, who has shone in our hearts to give the light of the knowledge of the glory of God in the face of Jesus Christ."(2 Cor. 4:6)
Wife and mother, Bible teacher and blogger, Lisa loves Jesus, coffee, dark chocolate and, of course, books. Read more of her reflections at Lisa writes…