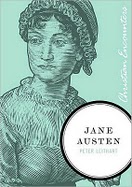 I recently finished reading Jane Austen
which is part of Thomas Nelson's new Christian Encounters biography series. A relatively short read on the life of Jane Austen, I was curious to know how Christianity was going to be tied into her story.
This one hundred and fifty three page biography was written by Peter Leithart, whose teaching I have sat under in person during the time when I lived in Moscow, Idaho. Dr. Peter Leithart teaches Theology and Literature at New St. Andrews College in Moscow (that's Mos-coe not Mos-cow) and is the pastor of Trinity Reformed Church in the same town. You might also recognize his name as being associated with Canon Press and Doug Wilson. That to say, my familiarity with who Leithart is, informed me that this work on Jane Austen
was going to be a real treat! And so it was.
Honestly, I've never read a biography of Jane Austen before so I've nothing to compare this book to. Sure, I've read Austen's novels and I've seen various movie adaptations. I loved Moser's somewhat fictionalized book, Just Jane
. And I've enjoyed my fair share of Jane Austen spin-offs. As for reading anything expressly factual about Jane, this was a first. I'm also glad that it was my first.
I very much appreciate the length of this book as it keeps things moving and to the point. I appreciated the fact that Leithart, in true form, does not play to either side of the coin when it comes to Austen's faith. He is not trying to appeal to those who want to turn Jane Austen into a pious believer, nor is he dismissive at all of her faith. He states that Jane Austen was a Christian, pure and simple, and had a deep and moving faith. However, she was human, she had an obvious sense of humor, she enjoyed her world and had her faults. In other words, she was a fun and approachable woman, witty and capable. Leithart makes Austen a joy to learn about and to know.
In the past I've found Leithart's books hard to muddle through. I hardly feel qualified to review one of this books because he is so knowledgeable and, dare I say?, brilliant. It's hard mental work to follow after him. It's healthy to attempt to study after him but it's hard for me to do, nonetheless. I was wondering how this biography of Jane Austen would read as a result but I needn't have worried. This is Jane Austen we're talking about – not Leviticus! Jane Austen
was an easy and informative read and I would recommend it in a heartbeat to anyone who would like to know more about Jane Austen, the woman behind the writings. She was an admirable woman in every respect and, let me repeat again, human as well. Her wit makes her approachable, her love of family makes her admirable, her talent makes her a delight and I'm grateful that she penned as much as she did during her lifetime. Reading Jane Austen
the biography made me want to read more of Jane Austen's novels. I therefore think that this book accomplished its intended purpose.
Excellent and very well done! I'm now curious to read more of the books in the Christian Encounter series.
Carrie comes by her book obsession honestly, having descended from a long line of bibliophiles. She blogs about books regularly at Reading to Know and Reading My Library.