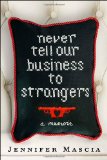 Looking at the cover of Never Tell Our Business to Strangers, you imagine a story about a family involved with "The Family," and conjure up images of The Sopranos and Goodfellas.
Not that I was looking for a titillating story, but this story deals not with living a life of crime, but uncovering one after the fact. The prologue and the last chapter of the book are good — maybe even great — as I felt it dealt with the true focus of the novel: making peace with our history and who are parents really are/were, and how our history affects our present and future.
It's an average book — a fair look at family dynamics which include family secrets, but don't they all? Of course, most of us will not find out that our parents led the surprising (and mostly hidden) life of crime that Jennifer Masica's did, but none of us are truly happy with everything about our parents, nor do we know everything about their past.
The majority of this novel deals with the close relationship that Jennifer Mascia had with her parents and how that led to difficulty leaving home and some conflict. The timeline was vague and a bit confusing, and the writing was overly wordy at times.
I think that this book would be much more successful if it were properly described as the story of a close-knit family, specifically the aftermath that an only child feels after she loses her parents. The story of being orphaned as a relatively young adult is one that appeals to many, either because they can relate, or in response to their fear of the same.
If you're looking for a look at the extraordinary circumstances and everyday trials of money and anger and strife of a family, then you might like Never Tell Our Business to Strangers. If you are expecting more of a look at growing up as a member of a crime family, you are going to be disappointed, as I was.
Jennifer Donovan grew up in an ordinary family and is now an ordinary mom, however, she has no doubt that she is leaving both good and bad impressions on her children. Read more about her life at Snapshot.