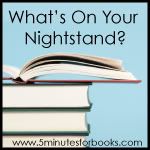 It's time for our most popular carnival once again — the 4th Tuesday "What's on Your Nightstand?" event. I hope that you are taking time to visit some of the people and see what they are reading and getting to know the other booklovers in our community (FYI, the third Tuesday is Kids' Picks, which is sort of a kid-sized version of Nightstand — what your kids have enjoyed that month, so if you have reading kiddos, browse the links and consider joining in next month).
If you've followed another link here, you can find out all about our community events by reading the Join In page at the top of the sidebar.
As a reminder, you can participate here in a variety of ways:
Share a list of books you hope to read this month, with or without a picture of the stack.
Go into a bit of detail about what you're reading and why. How did a particular book come to be on your nightstand? Why are you reading this book this month?
Give a few quick reviews of books that you read over the past month.

So, now it's your turn. Link up and share "What's on Your Nightstand?" Please link to the direct post, NOT your main page. If you enter the wrong link, you can email me or leave a comment, and I can delete it. You can also delete it yourself by refreshing the page and then clicking on the smiley face that should appear next to the link that you entered.

If you don't have a blog, feel free to leave us a comment with your Nightstand list.