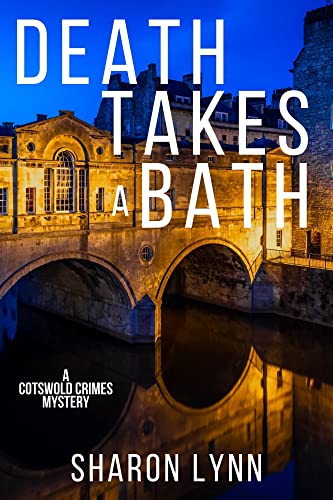 Harper is thrilled to be in Bath. The American architectural student has scored an opportunity to intern at the famous Roman baths. However, she is less than thrilled to receive a parcel containing a human ear on her first morning. The local police are mystified and a little suspicious, and Harper can't help be surprised when the policeman who turns up is the cute guy she'd met the previous night at the pub.
Harper connects well with an elderly docent at the famous Cathedral next to the baths, a passionate pensioner who guards her domain fiercely. She starts her internship the next day, showing up a week early out of eagerness, and is soon giving tours of the Baths themselves. Her relationship with a colleague named Simon is stiff and awkward though, and when she actually finds a body in the baths she's nearly arrested! All this as she tries to navigate life in a new country, far from familiar faces and loved ones. Does England hate her? Will she be able to make it on her own? Harper's determination to figure out what's actually going on leads her into danger more than once. Her own ingenuity and spunk see her through, and it doesn't hurt when that very cute policeman keeps showing up.
Death Takes a Bath is a really fun read, perfect for a late summer afternoon at the beach or by a pool (or snuck in bits while waiting in the school pick-up line, or queue as the Brits would have it). Some of Harper's charm is her fish out of water experience in a new culture and place, but it's mostly on her sheer determination to prove herself. A charming read. Recommended.
Book Links:Amazon | Barnes & Noble | BookBub | Goodreads
Author Bio:
Sharon Lynn was raised in Arizona, but it was living in England as a teenager and every return trip since that inspired the setting of her Cotswold Crimes Mystery series. As a professor of theater, film, and writing she coaches and mentors aspiring artists. Her short stories can be found in anthologies from Malice Domestic and Desert Sleuths. She is a member of the Mystery Writers of America, Sisters in Crime, and International Thriller Writers. Please sign up for her newsletter at www.sharonlwrites.com and www.blackbirdwriters.com.