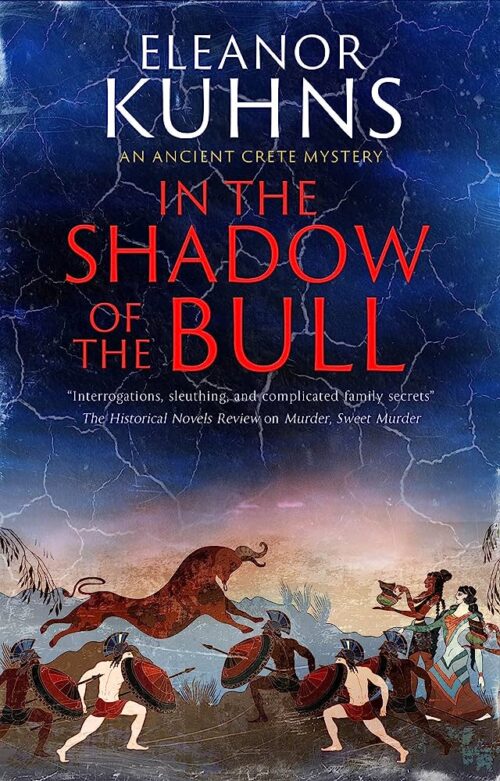 15 year old Martis isn't thrilled at the match her older sister Arge has made. Her marriage to the barbarian Saurus is supposed to take place that night, and Martis has gone all she could to avoid it. Martis has another secret; she's not just doing acrobatics as her family thinks, but is studying to be a bull-leaper, a combination of goddess worship and sport that is highly dangerous and would be highly disapproved of by her mother. Martis barely makes the ceremony in the Sacred Grove, and she clenches her hands and prays that the goddess will stop the marriage. But she didn't mean for her sister to begin convulsing and drop dead in front of the startled groom, family and guests.
A grieving Martis is visited that night by Arge's shade, who claims that she was poisoned. Martis takes a sacred oath to find out who is responsible. Her quest will take her unlikely places, and she'll end up suspecting most of her family by one point. Martis is scrupulously fair and even though she dislikes Saurus, she has to admit that he seems innocent, although he's been arrested for the crime.
In the Shadow of the Bull is historical fiction that offers a glimpse into the world of ancient Crete, with its mix of familiar; such as family dynamics, xenophobia, and jealousy; and unfamiliar, such as sacred snakes, goddess worship, and a class system based on where you were born. It offers us a glimpse into a different time and world that still feels familiar, because people haven't really changed in the intervening millennia. Martis is a sympathetic and engaging character, and the plot is intriguing. Recommended.
Book Links:Amazon | Barnes & Noble | BookShop.org | Goodreads | Severn House
Author Bio:
Eleanor Kuhns is the 2011 winner of the Minotaur/Mystery Writers of America first mystery prize for A Simple Murder. That was the first in the Will Rees series. She went on to write ten more.
In the Shadow of the Bull is the first in the Ancient Crete Mystery series.