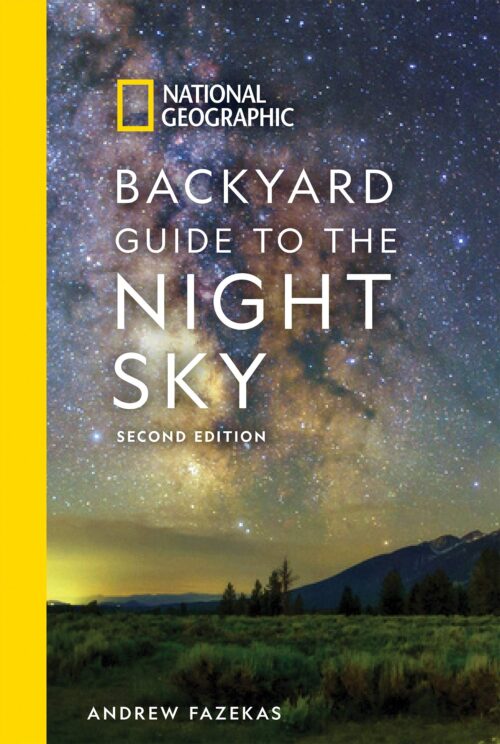 I have mostly lived in towns and cities, but there have been several times in my life where I have escaped the light pollution so endemic to our times. Backpacking in the Canadian wilderness, lying on a beach on a Hawaiian island, and camping in the Sahara desert are all very different experiences, but one thing they had in common was that they afforded me unparalleled views of the night sky. For the first time, I could see where those ancient Greeks came up with the constellations, could clearly see the Milky Way, and more. I was intrigued but ignorant, so I'm really happy to have a chance to look at the latest from National Geographic on this topic.
The book is gorgeous, as you would expect from National Geographic, filled with photos and charts and interesting facts. It's also paperback and quite lightweight, so you could actually take it camping and get some use out of it.
Chapters include foundations such as "Discovering Starry Skies," "The Atmosphere," "The Sun," "The Moon," "The Planets," and "Comets and Meteors." My favorites, however, were the last two: "Navigating the Night Sky," and "Sky Charts." Whether instructing on what's most visible in southern vs northern skies, teaching key star patterns, or charting the seasons and many specific constellations, these last two chapters will have you out every clear night scanning the skies to show off your new-found knowledge.
Backyard Guide to the Night Sky is a must-needed addition to any family's library, especially families who like camping or being outdoors, or have an interest in astronomy. It's a gorgeous book, and I'm planning to get a lot of use out of it.
Goodreads:

Purchase Links:Amazon | IndieBound | Barnes & Noble