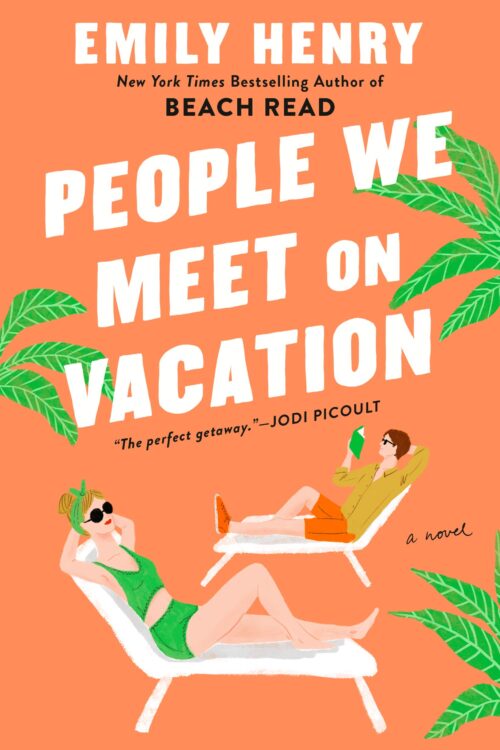 Emily Henry's first adult contemporary romance novel Beach Read was a huge hit last year, and one of my favorite books of the year. So when NetGalley offered her latest novel, People We Meet On Vacation, I jumped at the chance. The friends-to-lovers trope is turned on its head and I loved every minute of it.
Poppy and Alex have been best friends since freshman year of college. They are polar opposites – Poppy is loud, outgoing, and dresses in crazy outfits, while Alex would rather read a book than go to a theme party, and sees nothing wrong with the khakis Poppy is constantly belittling. Poppy lives to travel and see the world, and drags Alex along on her adventures each summer, until the summer trip to Croatia, when Something Happens that means they don't speak for two years.
The chapters alternate between present day, where Poppy lives in New York and works at a travel magazine as a writer, and has travelled the world, both with and without Alex, who is a teacher at the same small town high school Poppy attended. At the start of the novel we know that Something has happened between she and Alex, and the alternating chapters flash back to summers past, moving toward the Something.
The story is told from Poppy's first person point of view, so while we get glimpses of how she really feels about Alex, his feelings aren't really clear until later on.
While the dialog is way too witty to be realistic, I related to the in-jokes that develop on each trip they take, and loved how they took care of each other in their times of need. They both have issues from their past that get in the way of them giving in and admitting their feelings.
Content warning – there is one somewhat steamy scene, and a few others that are less so. I wouldn't exactly call it an open door romance, but it's not really closed either. Maybe ajar?
I really loved People We Meet On Vacation and recommend it to anyone who likes romance, travel to both little- and well-known locations, and characters who are fun to read about.