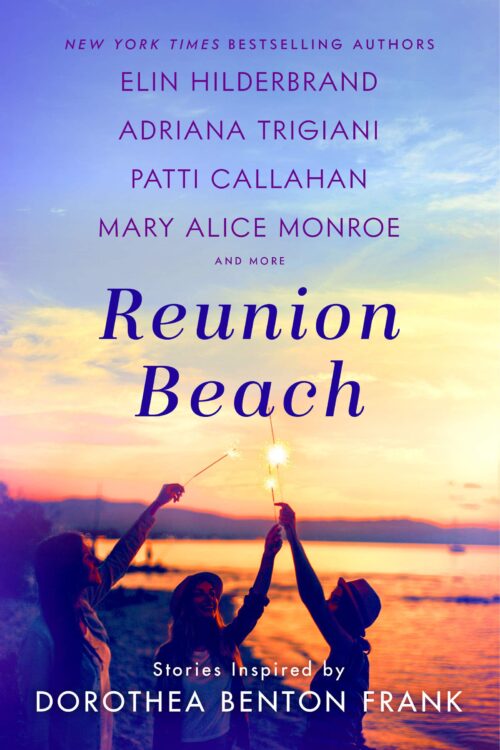 When I first heard about the anthology Reunion Beach: Stories Inspired by Dorothea Benton Frank, the first thing I noticed was that it includes "Summer Of '79," Elin Hilderbrand's short story sequel to Summer of '69. By the time I read that novel, the short story was no longer available, so I was thrilled to get the chance to read it. But Reunion Beach is so much more.
Reunion Beach is a tribute to Frank, the southern fiction author known as Dottie to all who knew her, who passed away after a short illness last year. The short stories, poems, essays, and recipes that are in the collection were contributed by such power hitters as Mary Alice Monroe, Patti Callahan Henry, and Adriana Trigiani, among others. All of them were close friends of Dottie's and clearly loved her dearly.
At the time of her death, Dottie was working on a novel with the title Reunion Beach. All of the stories in the collection revolve around reunions – a mother meeting the daughter she gave up for adoption 40 years earlier, the second wife of a famous TV chef having to put up with the first wife during a shoot involving the family, and of course "Summer of '79," which didn't so much sate my need for more of those characters as leave me wanting even more. Trigiani's contribution is a unique and humorous one, involving letters from beyond the grave.
I guess here is where I admit I've never actually ready any of Dottie's books. However, they sound charming, and I hope to rectify this soon, with a good novel set in the South Carolina Lowcountry that Dottie loved so much.
Whether you've read all of Dottie's novels, or like me, none of them, Reunion Beach is an enjoyable collection that honored a woman who left her mark on everyone she met.