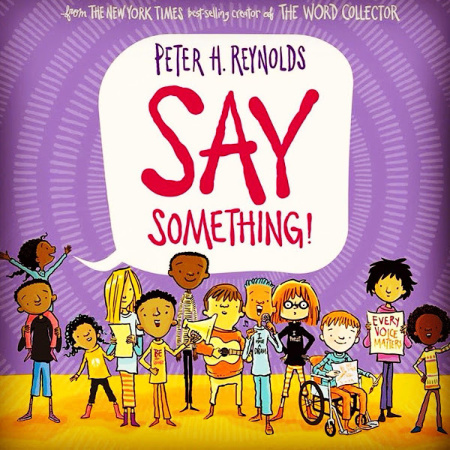 Speak from your heart. 
Your voice matters.
Hate has no home here.
These are just a few of the many incredible sentiments that greet readers in the opening end pages of Peter H. Reynolds' newest picture book Say Something! Be prepared for inspiration in the way that Reynolds excels at creating.
A diverse cast of characters gets sage advice from an unseen narrator who encourages the children to use their voices and make a difference in the world. Those differences might be large, but they might also involve just one other person, such as being there for someone who looks lonely. Saying something can also mean expressing yourself and showing your true self to the world, as well as standing up for someone who is being hurt. All of the examples given are accessible and easily understood by children in ways that apply to their own lives.
Check out the official book trailer below for a taste of Reynolds' signature illustrations and his uplifting message with this delightful picture book: