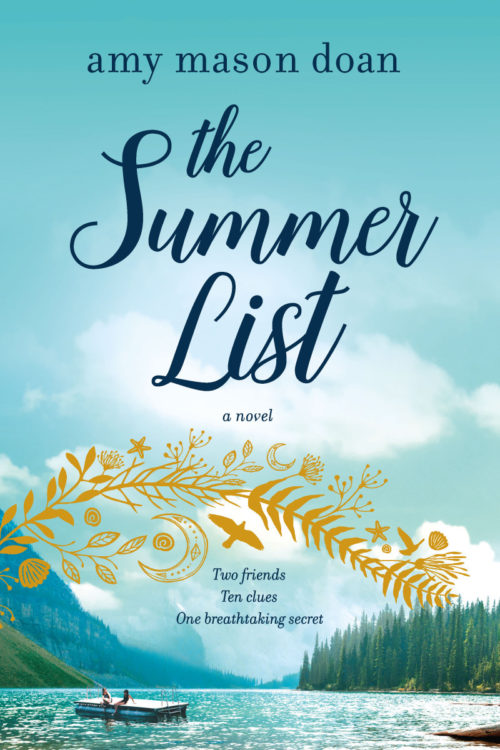 Summer before freshman year of high school, mid 90s. Laura's had a miserable year, bullied and mocked at school. She isn't expecting much as she kayaks across the lake to meet the new neighbors. But Casey, exactly her age, and her young single mother Alex, aren't like anyone Laura's ever known before. The two are inseparable almost from that moment. But the book opened with them at age 35, estranged, not sure whether to see each other again or not. What happened?
Laura was adopted by older parents, her mother very conservative and active in a local church in their tiny town on a California lake. All she knows about her birth mother is that she was a teenage runaway who did drugs but stopped while pregnant, and all she has left of her is a tiny item that's become a good luck charm. Casey and Alex's home, set up in a cabin that at one time held only the children and nanny of the town's founding family, is like nothing she's seen before. The two mothers–one young and free-spirited, one older and uptight–are immediately contrasted. Laura longs for a closeness like she sees between Casey and Alex, yet at the same time, there are major things about Casey and her burgeoning sexuality that Alex is blind to. Sometimes Casey is more the adult, worrying about her mother and the choices she makes, the phases she cycles through, the men she dates and discards.
Alex is gone for the weekend when Casey and Laura reluctantly reunite, quickly discovering that she set them up, and has left them a scavenger hunt to do together, complete with rhyming clues about their shared past. It echoes scavenger hunts they did as teens, when the whole town would fill the tiny cabin, eager to collect their clues. They begin warily, unsure of where this is going, unaware that it has the power to not only reunite them but also to answer questions rooted deep in both of their families.
The Summer List isn't a perfect book, but it is very good. It's well-plotted and well-written. It's bittersweet, dealing with girlhood bonds, mother-daughter complexities, lost loves, and lost time. There were parts that bugged me, although the ending did a lot to pull things together and was very satisfying. Right now, the Kindle version is only $1.99. Worth adding to your summer TBR pile.

Purchase Links