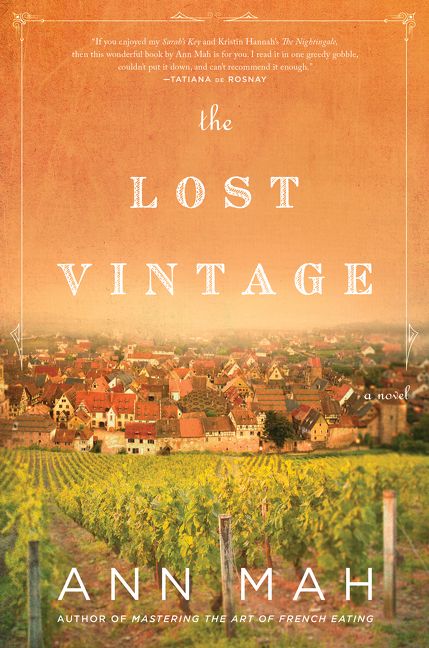 Kate's roots lie in the verdant wine-country of Bordeaux, but she's avoided the area for years. Her mother left, and raised Kate in California. Kate returned as a college student, fell in love with a neighbor boy, and broke his heart when she returned to San Francisco. Ten years later, she's a sommelier in an exclusive Bay Area restaurant, and studying for the prestigious, and monstrously difficult, Master of Wine exam. She returns to Bordeaux, staying at her ancestral home with her cousin and his wife Heather (an American who was also a Study Abroad student with Kate) for les vendages (the grape harvest) and a chance to study the local white wines. When Heather enlists her to help clean out centuries worth of junk in the cellar, Kate finds a hidden bricked off portion, containing a wealth of rare wines and a cot. It looks like maybe people were hidden there. But she also finds evidence of a long-lost aunt, her existence hidden away by the family like one of whom they are deeply ashamed. What is the truth of this part of the world, which was controlled by the Vichy government during WWII? Were the family Nazi collaborators?
Meanwhile, the reader is privileged to access a diary left by this lost aunt, Hélène. We follow her ambitions, her desire to become a scientist, her secret application of fumigation to save the family's prized vines, her growing dismay with the war, and so on.
The timeline of the novel switches back and forth, to the present, where rumors have spread that Kate's back to look for the highly-valued wines the family produced before the war, Les Gouttes d'Or (drops of gold). Kate's ex-fiance Jean-Luc has a new girlfriend who's snooping around. Kate isn't sure she can handle any more surprises, but she's dutifully (and secretly) cataloguing the wines she's found, while dealing with some very mysterious family politics.
The Lost Vintage is getting a lot of hype, and it deserves it all and more. It's a very well-done novel, with a gripping story that addresses the part of French history that many have desperately tried to forget. Although it seems everyone claims their family were part of the Resistance, some had to have joined the other side, right? Kate, and Heather, and Jean-Luc, and even Hélène will draw you into their world, and you'll be sorry when you have to leave. Although I have tagged it under historical fiction because of those diary sections, it's really a novel about how our family's past affects our present, and how we handle learning about their lives, seeing them as complex people facing nuanced situations. I really enjoyed this book! You won't want to miss it. Highly recommended!