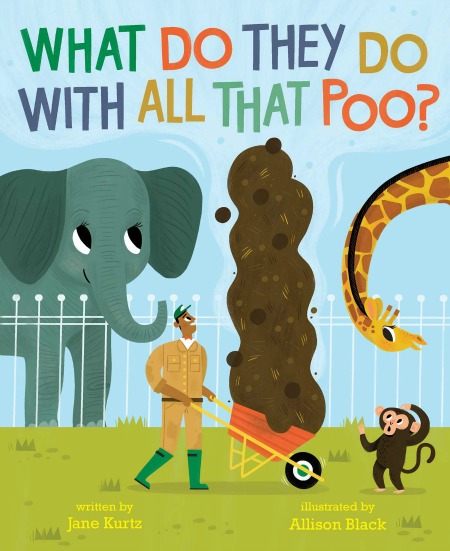 Leave it to children's books to ask the tough questions, the ones that even adults wonder but might not be completely comfortable asking. Well, children are often pretty straightforward with their curiosity, so a new picture book written by Jane Kurtz and illustrated by Allison Black just might address what your child was wondering during your last trip to the zoo. What Do They Do With All That Poo? gives some basic answers and provides follow-up information that may even cause grown-ups to go, "Wow!"
Combining a storybook rhyming cadence in one section of the text with fact-filled snippets in another, this picture book can be read and enjoyed by children from preschool through early elementary school ages. First, individual zoo resident animals are presented each with descriptions of their typical feeding and pooping habits. Some info may be familiar, such as the fact that pandas consume lots of bamboo all day, but you may be surprised to learn that only about 17% of the bamboo is actually digested, leaving their waste looking like a whole lot of partly digested bamboo, with the bonus that it doesn't even stink! Other tidbits that kids will likely find shocking– a sloth only poops about once a week, and the poop from bats is sparkly because of the coverings of the insects that they consume!
After a dozen animals are introduced and described, the titular question is addressed. What happens to all that poop? Well, more surprises may be in store for young readers, because not of all it simply gets discarded. Before reading this book with children, perhaps they could be encouraged to offer their ideas of how else zoo poop might be used.
Silly rhymes and brightly-colored comical illustrations make this picture book a neat combination of fact and fun.