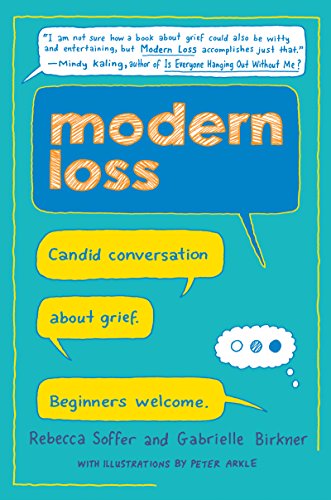 All of us are going to experience the loss of a loved one at some point: a sibling, a spouse, a parent, a dear friend, a pet. Depending on the circumstances and the nature of the relationship, it will be harder to process, take longer to heal, and find its way into all facets of our life. I've found that one of the best ways to process is to hear other people's stories. They might be different than your or the might be the same, but the common denominator is grief.
Modern Loss is a collection of essays curated by Rebecca Soffer and Gabrielle Birkner, who met in a grief group for people who had lost a parent. They were both young women, which made it hard for them to connect with some of the others who had lost parents who had already lived long, full lives.
The book does not look like a book on grief. It's bright and modern and casual. Inside you will find cartoons and drawings. Some of the stories are funny if you can allow yourself to laugh at the subject matter, but some are just plain sad. If you've found yourself navigating the path of loss — or if you are walking alongside someone who is, these chapters might interest you:
triggers
identity
inheritance
secrets
journeys
absence + time (now what)
There are also some "how tos" in story panel form:
things to know before scattering ashes
the do's and don't's of building your crew
surviving small talk after loss
survivor's guilt
a brief guide to griefspeak
You can find out more at HarperCollins or the book's site modernloss.com. The site is actually where everything started, and you can find other essays there, much like the ones you find in the book, sorted by type of loss and "hot topics." You can also get advice or submit your own story.